20 Years and Counting!
Posted on Mar 09, 2023
in
Blog
Insights by Peter Watson.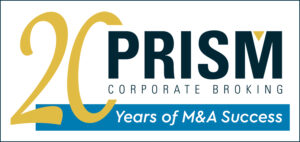 It is now 20 years since I joined Prism Corporate Broking, having sold my instrumentation business the previous year and looking for a new adventure.
I didn't imagine that I'd still be here 20 years later but when you're having fun…!
A key milestone was acquiring the business in 2006, and another when my now business partner Robert Fiske joined the following year. A problem shared is a problem halved and I have benefitted much from his sage advice.
So what has changed since 2003?
In 2003 Blueray DVDs were launched, Nokia still had a 57% market share, Google went public and the iPhone was still a twinkle in Steve Jobs's eye!
I joined just after the internet bubble had burst and many internet businesses were coming to terms with the reality of cashflow management. That said, the future direction was clear and whilst we started as a generalist, we made a decision in 2008 to focus on technology and have never regretted that move.
In dealmaking terms, completion meetings were lengthy affairs, with paperwork covering the table and an inevitable (and sadly missed) glass of celebratory champagne at the end. The process in other respects has remained stubbornly reluctant to change, though documentation management and research capabilities have both been greatly enhanced. The risks, however, remain broadly the same for an acquirer and the principles of negotiation are also still valid. We undoubtedly achieve more with less, but the highs and the lows remain.
How might the environment change in the next 20 years? Well AI will certainly play a greater role in eg. matchmaking, due diligence and documentation, but I still believe that trusted advisors will remain highly valued.
We will introduce new technologies as and when they become available, but relationships are what bring the colour and spice to the M&A world. Accordingly, we look forward to making new ones, whilst fostering those we already have.
We've also has the pleasure of working with some lovely people – and are currently blessed with an excellent team, though we have recently shed a tear to see Sarah Parks, our part-time Marketing & Communications Manager move to a full-time role with CNet Training – a business incidentally that we just sold to the US private equity backed Uptime Institute. Sarah has worked with us for over 12 years and will be missed. We wish her every success.
Many thanks to all of you who have worked for and with Prism over the last 20 years and have made it such a rewarding experience.
Find out more about Prism's history in our recent press release.